Gloomy weather makes blogging hard
This overcast weather does not want to let up! I finished the Gentleman's Fancy Socks a couple of days ago, but my apartment has been getting very little light so I'm going to wait to take pictures. The socks haven't really left my feet since (ew!), they are SO comfortable and soft and warm. Schaefer Anne is a great, great yarn. It's quite fine, but when knit up at a nice tight gauge in simple stockinette... mmmm. New favorite sock yarn? Perhaps. Speaking of which, I managed to get my hand on some multicolored Sundara sock yarn in Grasshopper!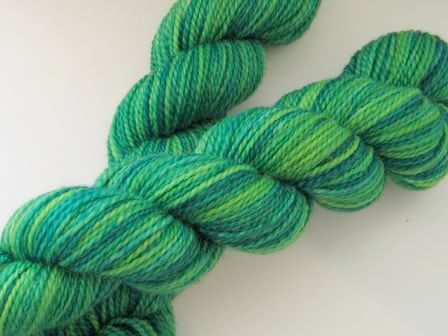 I can't wait to work with it - the color variations are perfect, just subtle enough for a more complex sock pattern. I even have one in mind!

I've picked up Forecast again, and I'm feeling really great about it! It looks like I'm going to have enough yarn after all - and if I don't, I think it looks pretty cute with 3/4 sleeves. I also started swatching for the New England socks - double stranding the yarn on size 0's gives 10 stitches per inch, and I need 9, so I'll just jump up a needle size.

Last post, Veronique asked how many blogs I read. A lot! I subscribe to 141 feeds through Bloglines. The majority of those are knitting blogs, but there's a bunch of food blogs in there for good measure. I think getting a Bloglines account was the best thing I ever did; I could never remember to check up on all the great blogs out there.

I'll try to snap off a few pictures of the socks and Forecast tomorrow morning before I leave for Brian's graduation (!) I really have no idea where this week went!